Dental Implants in Ladys Island
---
---
What Are Dental Implants?
---
A dental implant is an artificial tooth root that is surgically placed in the jaw. It can support a crown to replace a single tooth, or a bridge or dentures to replace multiple teeth. An implant consists of a titanium post that fuses with the bone in your jaw to form a solid bond. It works like a natural tooth root, providing comparable form and function.
---
Benefits of Dental Implants
---
Dental implants are considered to be the highest quality tooth replacement option due to their many benefits: 
Natural function.

Once the implant fuses with the bone it can withstand the bite force of a natural tooth. This means you can eat the foods you love without worrying about damaging your implant. 
Natural appearance.

An implant looks very natural because the structure is similar to a real tooth. The porcelain crown resembles tooth enamel in color and texture. 
Lasts forever.

A dental implant, once placed and effectively healed, can last for the rest of your life. 
Won't damage healthy teeth.

Dental implants have no negative effects on the healthy teeth around them. In fact, the effects are only positive. They prevent the other teeth from shifting into the gap left by a missing tooth and they help spread the bite force more evenly across the teeth. 
---
Types of Dental Implants
---
Single Tooth Dental Implants
---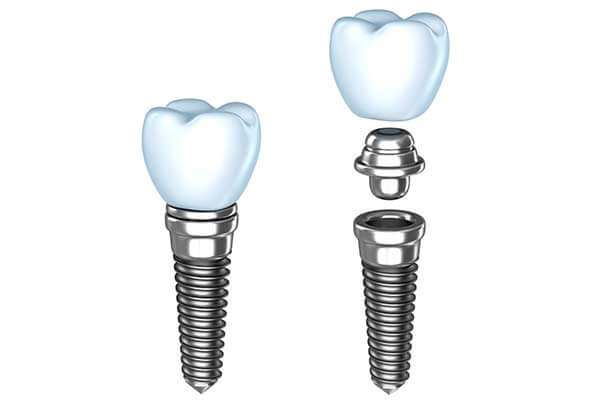 ---
Dental implants replace tooth roots in the mouth. Implants provide a strong foundation for fixed or removable replacement teeth and can aid in the prevention of bone loss in the jaw.
---
Implant Supported Bridges
---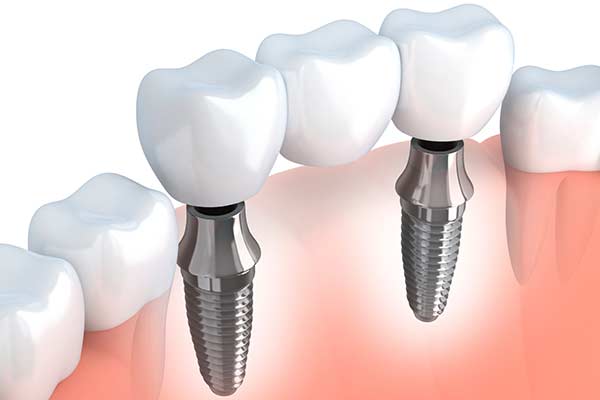 ---
An implant supported bridge is a restorative solution for spaces where three or more adjacent teeth are missing. This restoration typically requires two implants to support the porcelain bridge. The bridge provides a functional and aesthetic replacement for a patient's natural teeth.
---
Implant Supported Dentures
---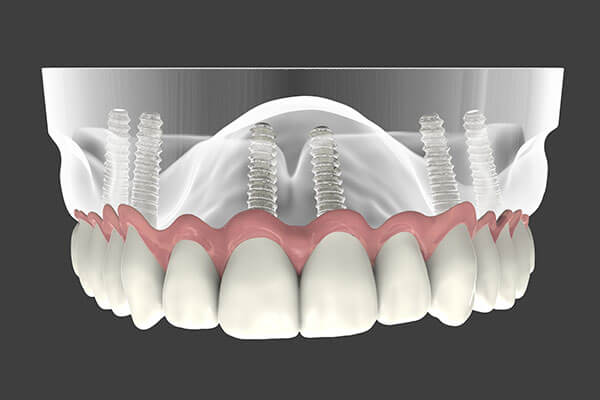 ---
For patients who are missing many or all of their teeth, implant supported dentures may be an alternative to traditional dentures. This solution requires the placement of two or more implants. In order to replace a full arch denture, a minimum of four implants is generally recommended. Eligibility for this solution is dependent upon a number of factors, with jaw bone density being one of the most significant determining factors.
Traditional dentures rely on an acrylic base that sits directly on the gums, held in place by a paste or adhesive. Using implants as supports for dentures allows for a smaller and more comfortable base and less shifting of the prosthesis during use.
Implants can support both full and partial dentures as well as both fixed and removable dentures.  If a removable denture is selected, the denture will "snap" on to the implant rather than requiring the use of denture paste or adhesives.
---
Full Arch with Only Four Implants
---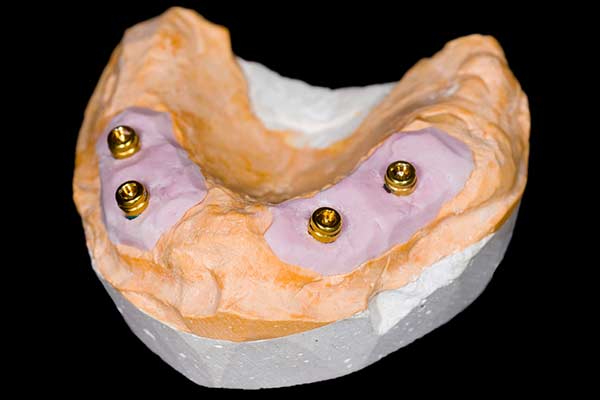 ---
This procedure is a unique implant solution that allows patients with a completely edentulous (toothless) upper or lower arch to replace all of the teeth in that arch using only four implants as anchors.
---
Are You a Good Candidate for Dental Implants?
---
If you have one or more teeth that are missing or need to be extracted and replaced, you may be a good candidate for dental implants. The biggest consideration is how long your teeth have been missing and the condition of the jaw bone in that area. When a tooth is missing the support structures begin to weaken and dissolve, including the jaw bone. If the bone is too thin or weak to support an implant, you may need a bone graft procedure first. Not everyone is ready for an implant immediately, but most patients can be ready with a little preparation.
---
Why Choose Sea Island Dentistry?
---
When it comes to dental implants, accurate placement is crucial. Sea Island Dentistry has the experience and technology necessary to place dental implants at the right depth and angle for success. We provide a range of dental implant procedures from single tooth replacement to implant supported bridges and dentures. If you're going to invest in dental implants, it makes sense to choose a dental practice you can trust.
---
Frequently Asked Questions About Dental Implants
---
---
---